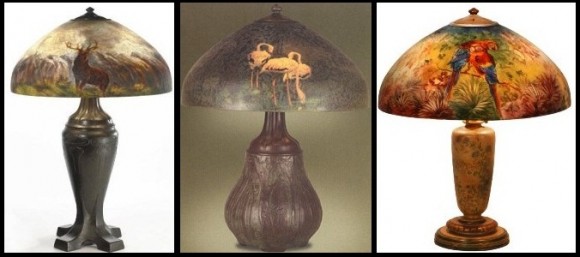 Handel lamps can be broken down into three categories.  There are painted shades, metal overlays, and mosaic designs.  Each lamp is valued based on its own merits.  There is no preference in the market for one style over another.
Today the name Handel is most closely associated with the reverse painted shade.  If a lamp is said to be in the Handel style that usually just means it has a round conical shade with a painted landscape scene.  Most authentic Handel lamps with painted shades are signed as Handel in a dark colored felt pen around the bottom interior of the shade.  The name "Handel" is typically followed by a four digit shade design number.  Some shades are evened signed by the artist at the Handel factory who painted the shade.  We have a list of many of the Handel artists.
Not all Handel shades are marked.  Ones that were done for special orders were marked but not numbered.  Others that had flaws and imperfections were kept by employees or given away; those shades were not marked at all.  It is also possible that during the course of 100 years that the mark faded or was removed during cleanings.  So it's a bad sign if the shade isn't marked, but it is not a conclusive sign that the shade is a reproduction.  The bad news is if the shade isn't marked with a number, then you will have a hard time associating it with a specific design.  The good news is that we have over 500 images of Handel reverse painted shades in our image gallery.  You can access the entire image gallery here.  If using the gallery, please allow adequate time for the images to load.  You can always use the website search feature to narrow down your options.
Another type of Handel lamp is the metal overlay lamp, also called a teroca lamp.  There are not many different lamp designs that used this style.  We have eleven different lamps in our teroca image gallery.  These lamps are constructed using slag glass panels.  A stylized metal overlay is then added over the glass to give the lamp a design.
The Handel Company also made mosaic shades.  The casual observer will often call these Tiffany style shades or tiled glass shades.  Most mosaic shades were rarely marked and they are difficult to confidently attribute as Handel lamps.  You usually have to rely on old production catalogs to find a match.  Or you can use context clues like the heat cap, pulls, and construction techniques.  Mosaic shades from Handel are usually the least valuable of the three types of lamps; however, there are some very valuable exceptions to that rule.
Now that we have talked about shade styles, let's focus more on the actual lamp styles.
The most classic Handel lamp is the table lamp.  The table lamp has a wide shade (usually 18") and they are tall (usually around 23").  The lamps below are painted shades.  Yours could have a mosaic glass or metal overlay.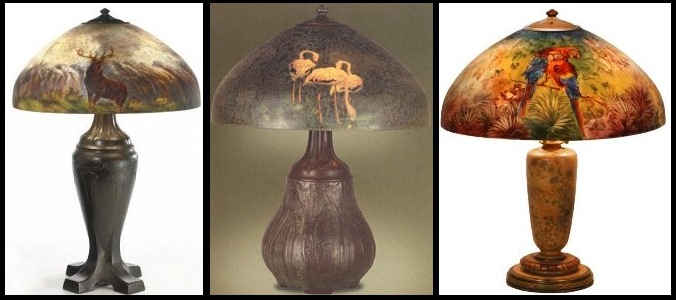 The smaller line of Handel lamps are known as boudoir lamps.  As the name suggests, these would be found at a lady's makeup table or on her night stand.  These have small seven or ten inch shades.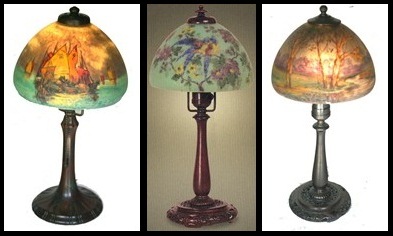 Handel also made a line of standing floor lamps.  Floor lamps are usually around 54 to 57 inches tall.  The shade sits like a hanging bell.  Many floor lamps are marked as 6068.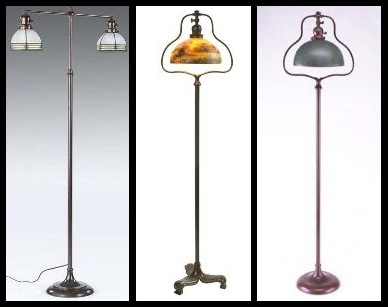 We sometimes see Handel egg lamps.  These are often found in pairs.  Most examples are marked.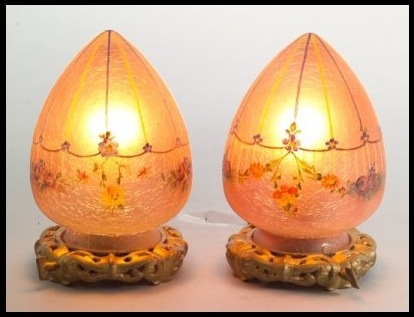 It is not uncommon to see a hanging glass globe.  These usually have a bird painted on them.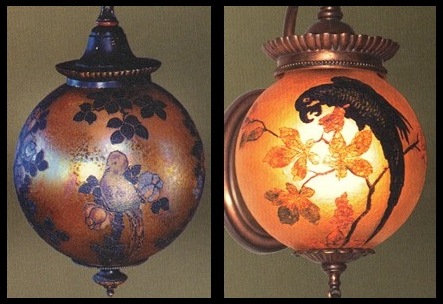 Handel also made a very diverse line of "piano" lamps.  This is a generic term used to describe small lamps that you might find on a desk or piano.

Just ask if you need further information about your Handel Lamp.  We happily share all information free of charge.  Just send us an email to Lamps@HandelLamps.com and we can get the appraisal process started.